So I released in the last few days a game called Monster Puzzle RPG. It's my third game in the Android Market. It's not successful so far, though. I made it together with my cousin, he told me about an interesting mechanic he wanted to pursue and, after some convincing, I went along with it.
Download Monster Puzzle RPG on Android Market!
Monster Puzzle RPG on ModDB!
Let's analyze the game(our own game xD), then.
Gameplay
The main mechanic of the game is a grid. A grid of blocks where you have to destroy the blocks and rotate the screen to get an advantage, so you can avoid AND attack the monsters. It's feels quite puzzle-ish, which is why it has the puzzle in it's name. To reinforce the puzzle aspect, I decided to grade the player based on his score and allow the player to retry the stage freely to increase his rank, similar to Angry Birds.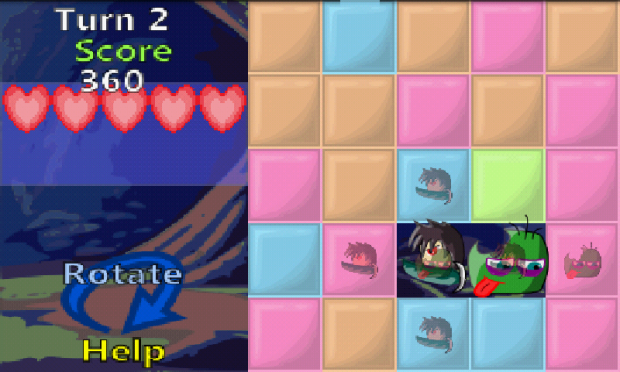 A picture of the puzzle-battle thing
While not inside a puzzle-battle, you proceed through the story in a visual novel manner, similar to games like 999. This way of telling the story was chosen because it's easier and faster to make, since we are indies, but even so it's still an effective way of telling a story
, I believe.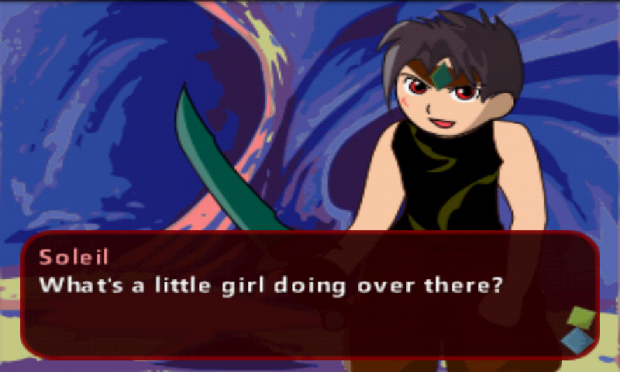 We went for an sort of addictive gameplay thing where you kinda wanna make yourself unlock the S rank in every stage. Not sure if it worked, though.
Story
We went with a traditional medieval theme and a story about a treasure hunter that's looking for an specific treasure. I think that it fits well with the puzzle theme
and that isn't integrated in to the gameplay yet, I suppose. The story is light-hearted and develops as Soleil, the main character, interacts with his companion, a little girl by the name of Ciel. They are both happy people, so the story stays warm through the demo, but if we continue the game it will go deeper in to darker themes.
Graphics
We went with pastel colors since we find that lighter on the eyes, so light colors are seemed though the entire game. The graphics are mainly vectorized stuff.
We're not graphics specialists, but the game still went nicely, we believe.
Sounds
The sound effects are generic stuff, but they fit well. The music was compoused my cousin, who's really amazing and managed to create some cool songs for the game. We went with MID stuff, which kinda limited his potential, but the musics are still great and might justify a download, I hope. He used a program called Fruity Loops Studio
So there you have it! So the game still isn't successful(we hope we can turn that around), but we do not thing the game is faulty, it's just a matter of exposion.